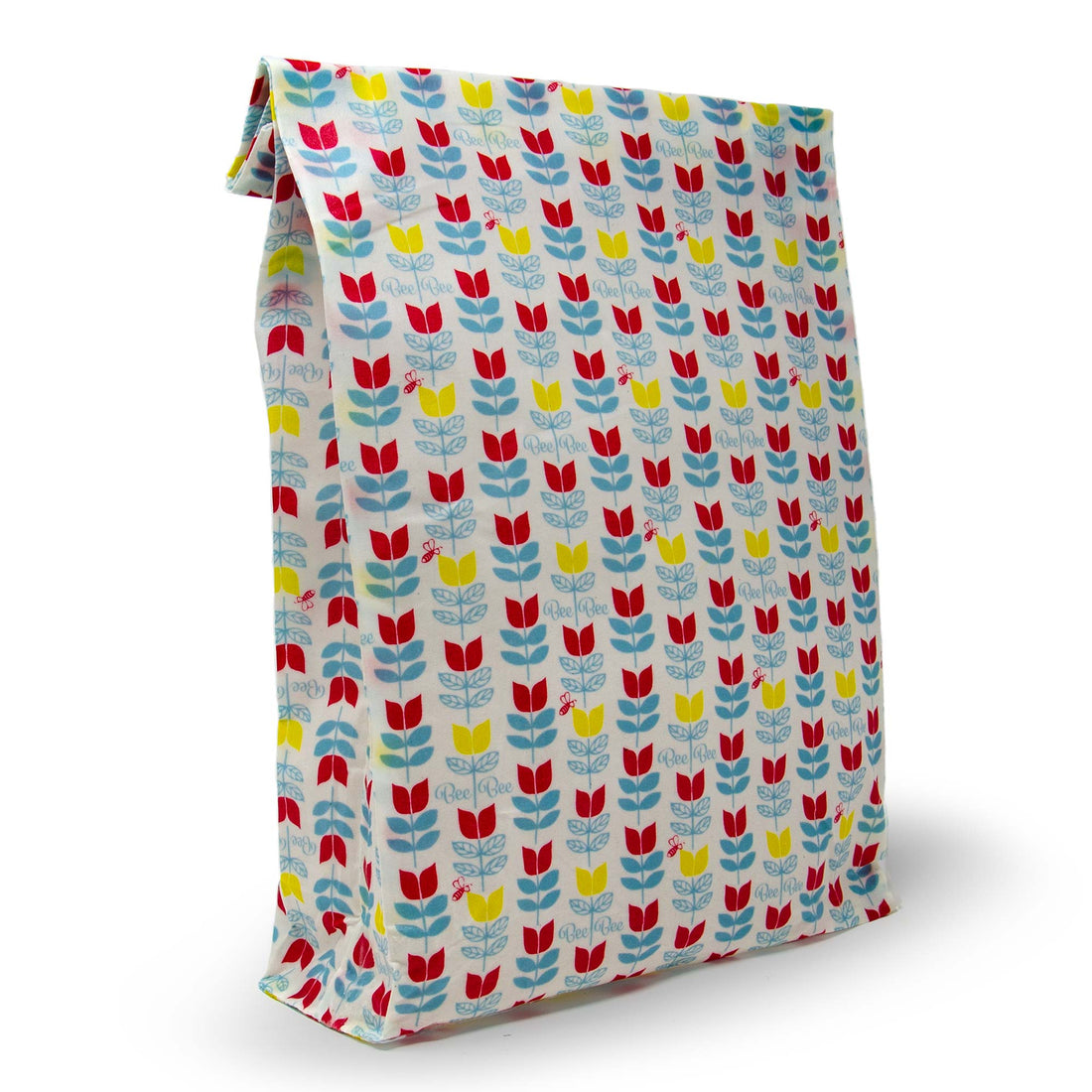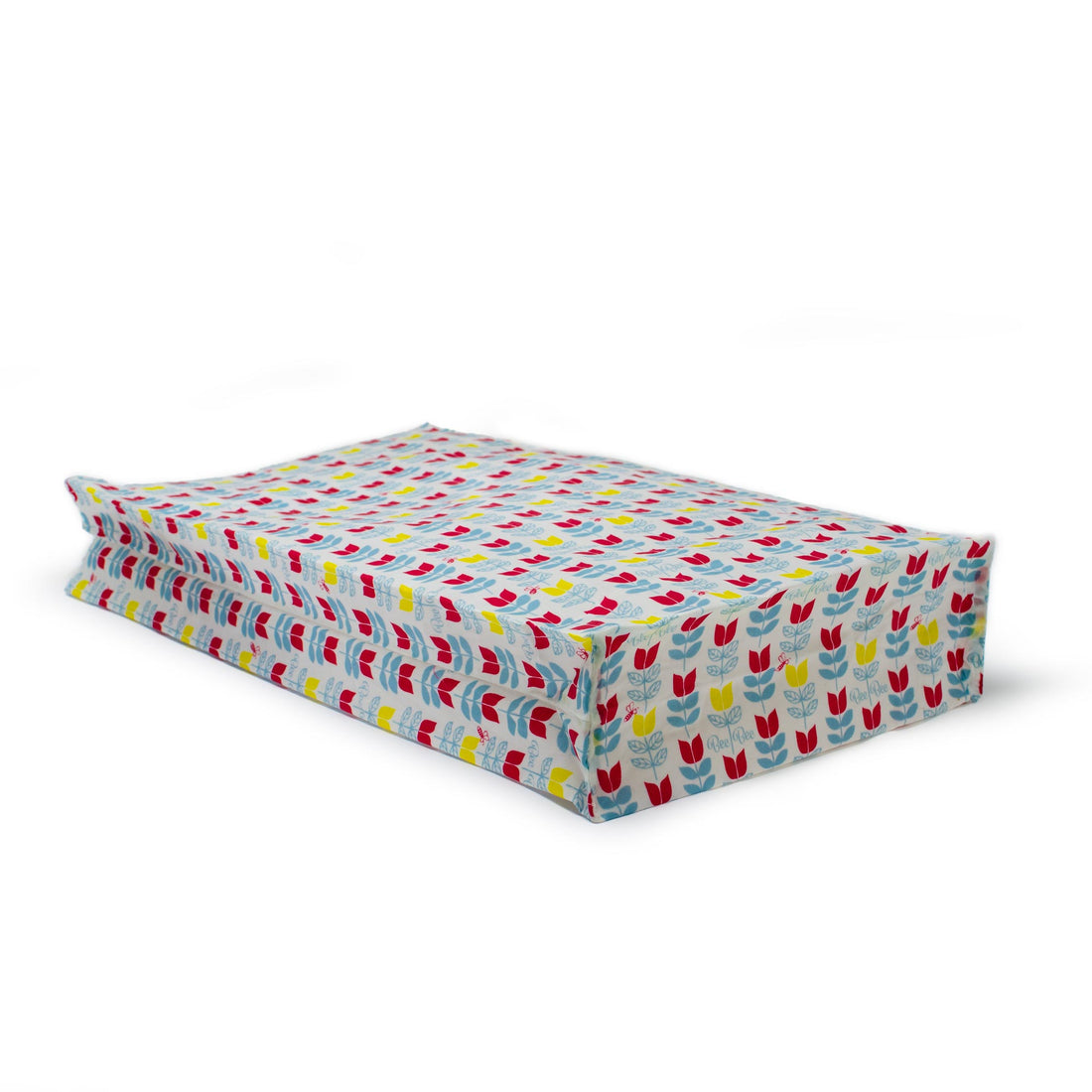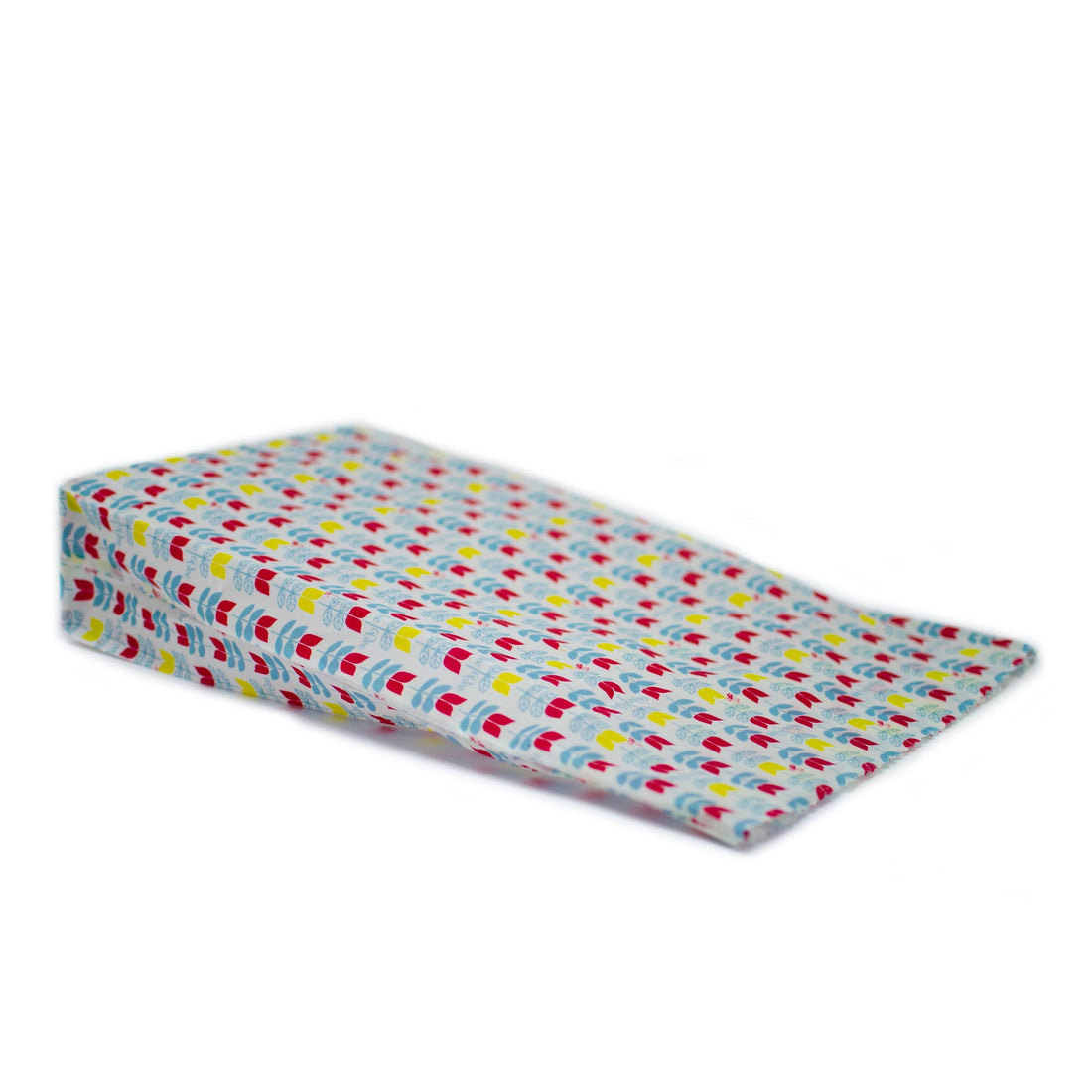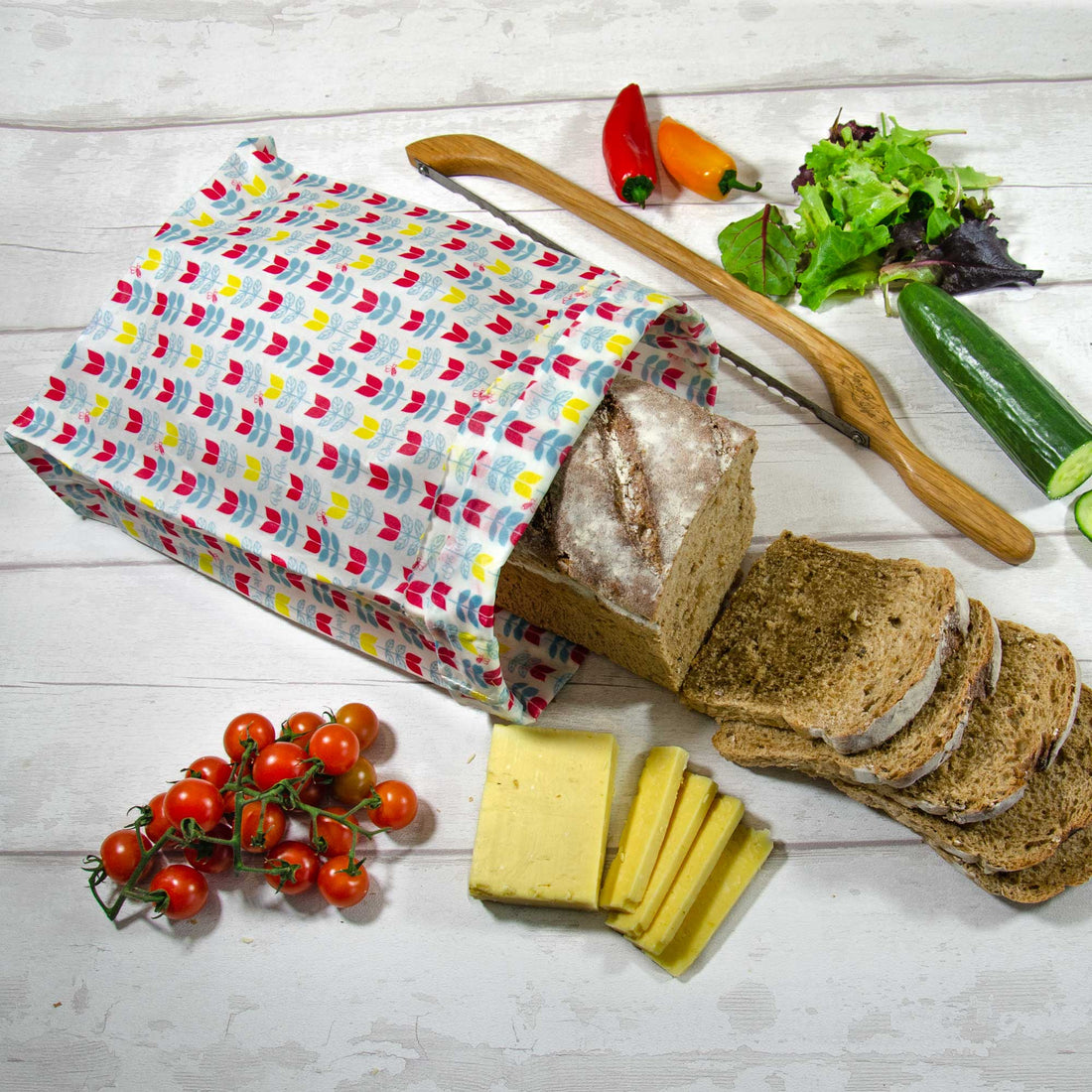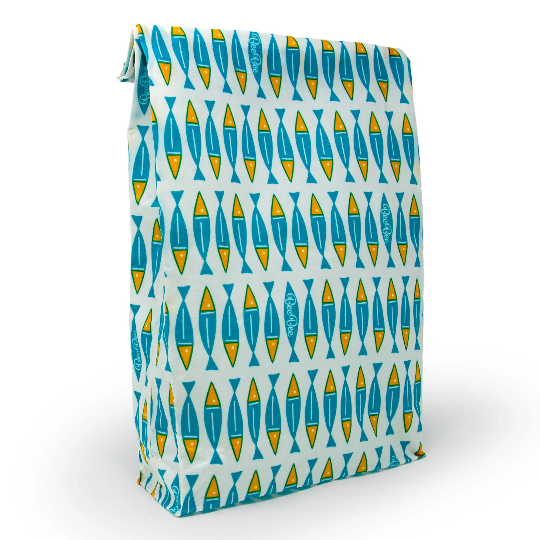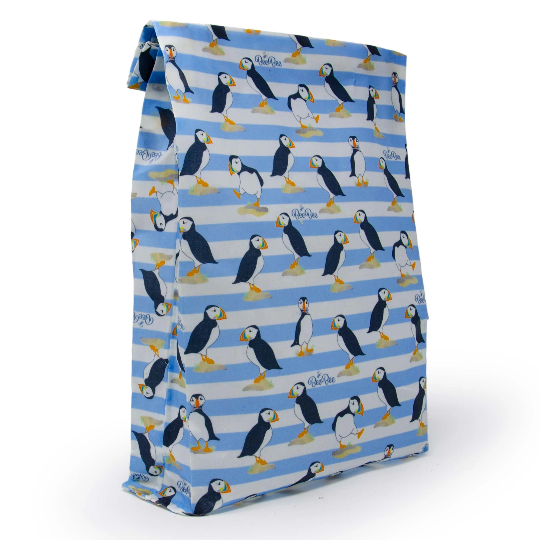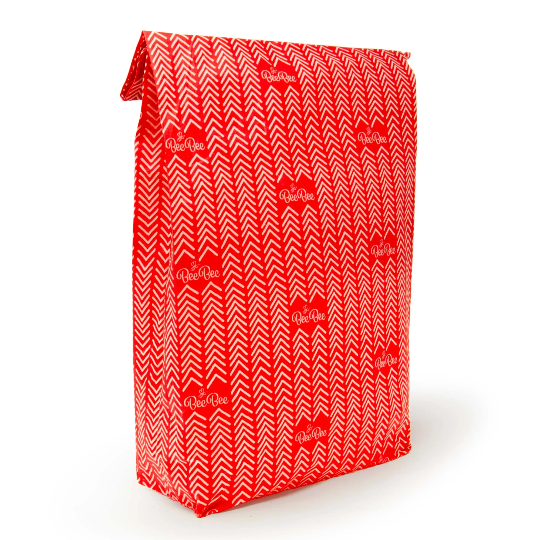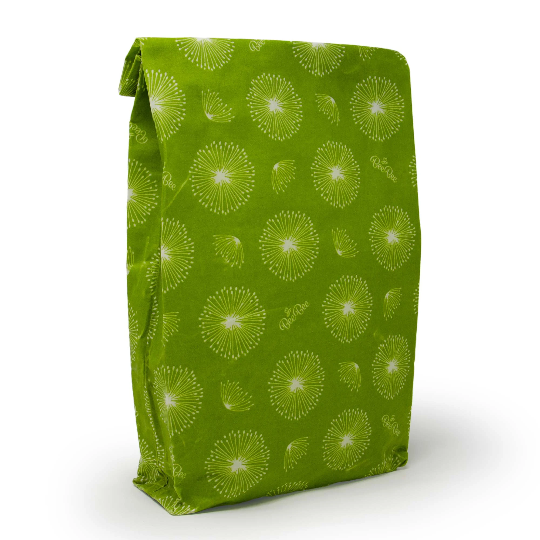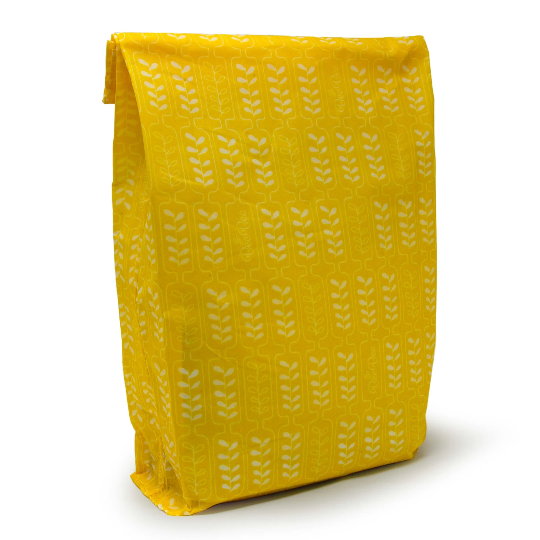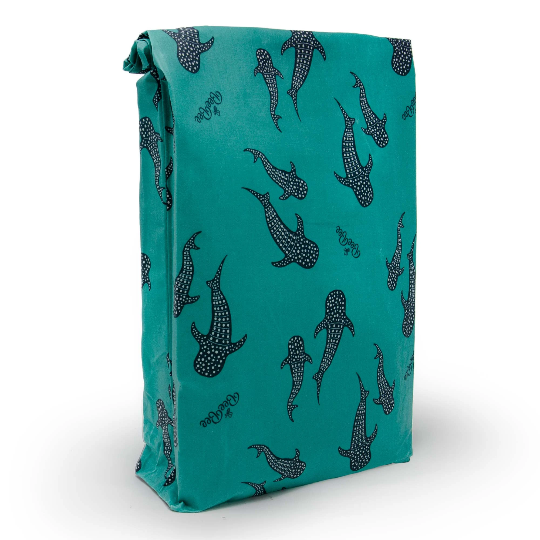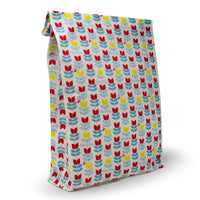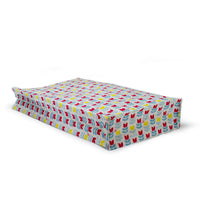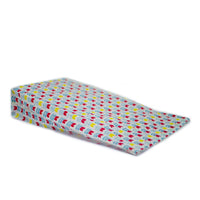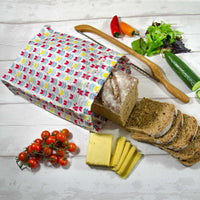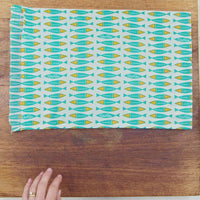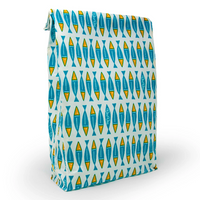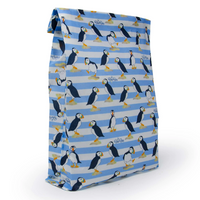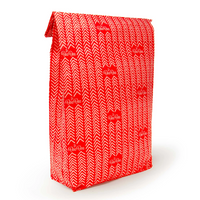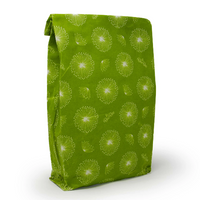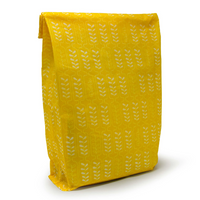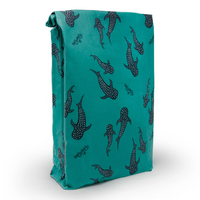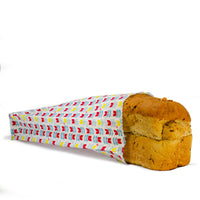 Large Beeswax Bread Bag with Sewn Gusset
Our Bread bags are perfect for keeping bread fresh, whilst it seals around bread to prevent staling it allows bread to breathe prolonging its life. Really useful to prolong the life of artisan breads that do not have the supermarket preservatives. Or try them for big bags of spinach and spring greens. Simply rinse the vegetable, shake off the excess moisture and pop them in the bag pressing down the flap. You will be amazed how much longer they will keep fresh in your fridge.
Simply shake out the crumbs after use or use a sponge to wash out the inside in your washing up bowl.
We've made our bags a little bit bigger than most, 45cm tall by 32cm wide at the top with an 8cm gusset at the bottom, so even the largest loaves fit in comfortably.  The gusset is sewn in so will stay there when washed and not just fold.

Clean - Keep your wax wraps in tip top condition by hand washing in cool, soapy water using a mild dishwashing soap. You can soak our wraps to remove hardened food and scrub them using a BeeBee Wipe, soft bristle brush or sponge. Drip dry on the draining board or peg out.
Store - Store rolled in the space clingfilm used to inhabit!
Don't - Do not use with raw fish or meat, and avoid all contact with heat, including microwaves and ovens.
Refresh - Your wraps are reusable for a year. Once they become vintage refresh using our 'Relax & Rewax Refresher Drops', watch our tutorial videos to learn how. Alternatively, burn as a firelighter on a barbeque or wood burning stove or compost on an active compost heap.
UK Delivery - We send your order by Royal Mail First Class Delivery on the next business day after purchase. The cost is £2.00 per item, however all orders over £30 are shipped for free.
We will notify you when your order is despatched and if your order will be delayed. During the festive season orders may take 2 working days, but truly it is our aim to meet our promise of next day.
International Delivery - We send International deliveries by standard post which starts from £5.00. The exact cost is calculated at the checkout depending on your location.
Sending a gift? - To reduce our waste we don't include an invoice or any paperwork relating to the order value. Our products are ideal for gifts; the lucky recipient won't see the order value and you can send directly to them. Your invoice is sent to you via email within your order confirmation.
Returns - We hope you love your BeeBee & Leaf products, but if you're not fully happy we offer a 100% money-back guarantee for 60 days from receipt.
Simply get in touch with us to return the products in their saleable state in the original, undamaged packaging. Any products received back which are not in a resalable condition will be returned to you, unless they are deemed faulty.
Bread bag - genius!
Used their large wrapper for bread for several years - fantastic. Now a bag with a gusset - even better!
Lovely and spacious!
It is well made and pretty spacious.
Great size takes a really large loaf which stays fresher, really recommend